Whirlpool Repair: St. Louis' Authorized Service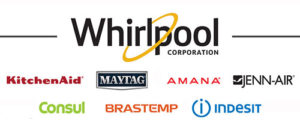 St. Louis Appliance Repair is an authorized Whirlpool service in the greater St. Louis area, providing expert in- and out-of-warranty Whirlpool repair for all refrigerators, ranges, dishwashers, washing machines, dryers, and microwaves. We also service Whirlpool's subsidiary brands: Maytag, KitchenAid, Jenn-Air, Indesit, Consul, Brastemp, and Amana.
For reference, only four other service companies are authorized in the St. Louis area, though many will claim to be. For all our service calls, we emphasize white-glove service, meaning we arrive when scheduled, are up-front and transparent about repairs and costs, and the only trace we leave of having been in your home is a now-working appliance.
What does it mean to be Authorized for Whirlpool Repair?
Our techs receive in-depth, factory training for repairing and maintaining newer Whirlpool models, as well as manufacturer's insights into older models
Our partnership with Whirlpool also ensures a direct supply of original factory parts
Our appliance techs are also trained in teaching you the best way to use and care for your Whirlpool appliances
We repair in-warranty and out-of-warranty appliances.
We're proud of the fact that we're Whirlpool's choice and will strive to be your 1st choice as well.
Schedule a service today, call (636) 733-6709.
Our Whirlpool repair St. Louis service area: